Club History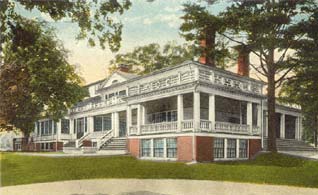 The beginnings of the Country Club of Pittsfield date back to 1897 when a group of local men and women decided to become familiar with the game of golf. They rented land for the construction of a nine-hole course in a quadrangle bordered by Dawes Avenue, Holmes Road, William Street and Arlington Street.
Two years later, they made plans to purchase the estate of Sarah Morewood, a 230 acre tract including a mansion known as "Broad Hall" and on August 24, 1900, the Country Club of Pittsfield was chartered by the Commonwealth of Massachusetts.
The mansion had been built in 1785 by one Henry Van Schaack of Kinderhook, NY and the main part of the present clubhouse is that original structure. At one time a noted hotel, the Broad Hall mansion was later owned by Thomas Melville, uncle of Herman Melville (author of Moby Dick et al).
At various times in its history, Broad Hall had as guests President John Tyler, General Lafayette, Chief Justice Shaw and such literary giants as Henry W. Longfellow, Nathaniel Hawthorne and Oliver Wendell Holmes. In the 1850's it was a stopover on the "underground railroad".
The first golf course was nine holes and measured 3,240 yards. Two tennis courts were situated just north of the clubhouse where the first tee and putting green are located today. A new course of eighteen holes was designed in 1917 by the justly famous golf course architect, Donald J. Ross and this is more or less the course we play today.
Many of golf's Hall of Fame names have been associated with the Country Club of Pittsfield, including Willie Anderson, winner of the U.S. Open four times and once our Club Pro, Bobby Jones, Gene Sarazan, Julius Boros, Bob Toski, Lawson Little and Jack Kirkwood to name a few.
The founder's purpose was to "establish and maintain a house and grounds in the City of Pittsfield for social meetings and to encourage athletic exercise". To this end, the club presently has facilities for golf, tennis, paddle tennis, squash, swimming, boating, fishing, sledding, tobogganing and cross-country skiing in addition to three dining rooms, a ballroom and general meeting rooms.
From the beginning, the Country Club of Pittsfield has been a "family club" and today supports and encourages golf, tennis and swimming programs for juniors. Also, from the beginning, the Club membership has been open to males and females alike. The original membership listed at least fifteen single ladies.
Arms: A shield of green, a golf club, a checkered band of red and yellow between three golf balls.
Crest: A stork resting right claw on a niblick.
Motto: Benigno Numine-"by the favor of Providence" or play "under smiling skies".
The arms of the Country Club of Pittsfield are, with differences, the Arms of Sir William Pitt, Earl of Chatham, for whom our city was named. Pitt's field of sable has become the green field of the Country Club Arms; Pitt's golden souvenir coins of the Crusader are our three golf balls and the stork denoting gratitude as Pitt's crest, represents outdoor freedom on lake and land for the Country Club. In further difference, the stork rests his right claw not on Pitt's anchor, but on a niblick, an ally as staunch as hope in time of difficulty.