Golf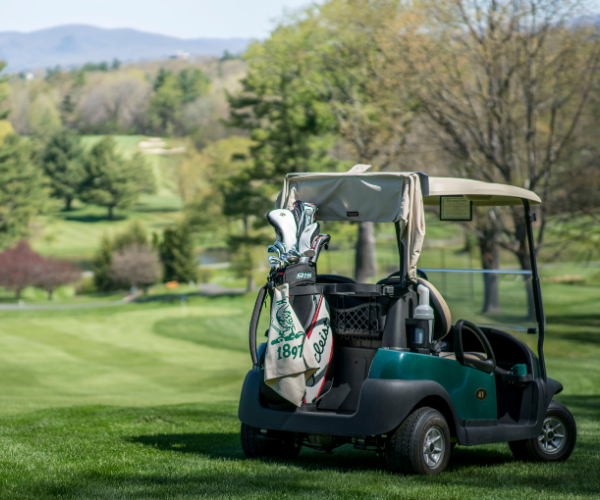 The Club's lush, rolling par-71, 18-hole course will challenge your skill and delight your eye. The golf course was designed in 1915 by the legendary Donald J. Ross. In 1931, the course was remodeled by Wayne Stiles. The firm of Stiles and Van Kleek were noted as the prolific golf course architects of their time. This is the beautiful course that we enjoy today. From the tips, the course plays a long 6400 yards while the Men's, Ladies, Seniors and now the US Kids Golf tees offer the appropriate challenge to players of all skills and ages. The golf course takes on the personality of the Berkshires. The wide variety of terrain, trees, flora and fauna deliver spectacular views and something new every time you play whether it's twenty rounds per year or a hundred.
Head PGA Professional Eric Mabee, joined the Country Club in 2015. With a new focus on service and upscale amenities, Eric and his staff have elevated the Country Club's standing in the great Berkshire golf community. Eric joins us from McArthur Golf Club and most recently Oak Hill Country Club where he was trained by world renowned, Craig W. Harmon. Eric is a young energetic professional priding himself on member services, world-class golf instruction and tournament operations. In Eric's first five years at the Club, his Golf Shop has been awarded Northeastern New York PGA's Merchandiser of the Year twice (2016, 2018) and Teacher of the Year in 2019. Eric offers many instructional options for those who want to improve their golfing ability. A comprehensive teaching program can be experienced individually, or in groups as well as through an active Kids Program. The staff is eager to help members and their guests with any of their requests.
Our practice facilities are unmatched in Berkshire County and now include a full TurfHound tee line, short game facility and a two-tiered putting green. You will find Eric teaching at the corner of the range most days and a membership that loves to play the game.
The golf membership is a friendly, inclusive group. Tee Times are employed to control play but finding a game is as easy as coming out on the spur of the moment or talking to the staff to find you a game. The tournament programs (Men's, Ladies and Juniors), which are member driven and enthusiastically supported by the Professional Staff, affords opportunity to meet new golf partners and play exciting new formats including organized leagues.
The Country Club of Pittsfield and other local Clubs have a long-standing relationship (Allied Association) that provide alternatives for play during events and the Tournament programs are designed to be as unobtrusive as possible, fostering ease of play and course availability for all members. Regular events for guests, along with a well-designed guest policy, make our Club a real treat for your out of town guests or business clients.
The Country Club of Pittsfield golf experience is one that can be treasured by the experienced Professional or the occasional weekend player. Just enjoying the great outdoors at CCOP can instantly relieve all that tension that we all experience in our lives.
We'd Love To Hear From You
Contact Us
639 South Street | P.O. Box 538
Pittsfield, MA 01201
(413) 447-8500 | [email protected]